17 Great Ideas from Simplexity Medicine: Health Care Reimagined
By Olivia Morrissey
On April 16, 2020, the Personalized Lifestyle Medicine Institute, in collaboration with Ortho Molecular Products, convened more than 4,600 healthcare practitioners to Simplexity Medicine: Health Care Reimagined. The virtual, live conference was a silver lining amid all the uncertainty surrounding COVID-19, an opportunity for functional medicine practitioners to connect and learn from a faculty of experts sharing their insight on the virus and its effects. Attendees also learned about ways to transition their practices to a virtual model using the Virtual Practice Pivot Program.

Here are key takeaways from the event, organized by speaker:

Jeffrey Bland, PhD
With 10 million people in the United States considered immunosuppressed, infectious disease becomes a perpetual challenge. It is not just the virus itself, but also the environment that either resists the virus or allows it to proliferate.
Immunological reserve creates resilience against a pandemic. Dr. Bland shares his reflections on this topic in this article.
Dr. Bland theorizes that prevention will be redefined as multicausal and approached from a personalized health perspective.
The gut microbiome influences the lung microbiome. Diet and gut health are critical for lung health.
Dr. Bland encouraged attendees, if they were able and wanted to do so, to donate to Feeding America to help serve the millions of Americans affected by the COVID-19 pandemic. Dr. Bland and his family are making a generous gift in addition to the $5K gift made by Ortho Molecular Products. You can give here.
Aristo Vojdani, PhD, MSc, CLS
Dr. Vojdani started his presentation with a profound question: "Why do many people get exposed to COVID-19, yet some people don't get infected, some get a mild infection, and some get a serious infection?"
Both the external environment, lifestyle, medications, stress and the internal gut flora, inflammation, oxidative stress impact outcomes in COVID-19 patients.
According to Dr. Vojdani, if there was one test everyone should have right now, it would be for secretory IgA. This test determines immunity to COVID-19 more accurately and reliably than other tests. It is an easy test to run—patients need a stool or saliva sample done at home and mailed in for testing.
Dr. Vojdani recommended the following for a strong immune system: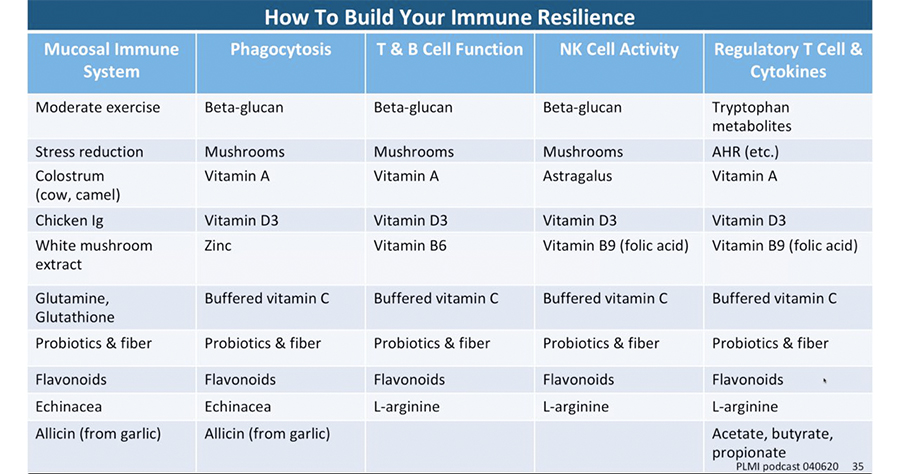 Cheng Ruan, MD
Dr. Ruan's perspective is that COVID-19 was the straw that broke the camel's back and revealed the ugly truth about global health care systems.
He uses telehealth to assess and monitor patients, plus stay connected with them, during COVID-19. This method has helped keep some of his patients presenting with COVID-19 symptoms out of the emergency room.
Complexity is the enemy of progress. Functional medicine practitioners who overcomplicate what they provide or how they stay connected with patients will lose their engagement with them.
Practitioners can engage with patients and continue building their communities with virtual group visits.
He recommends The Community Cure for practitioners interested in implementing the Group Visit Model in their practices.

James Maskell
Now is the time for disintermediation, the opportunity to have a real relationship between doctor and patient
Practitioners can build resiliency in themselves, their patients and their practices.
Access the Virtual Practice Pivot Program and Interactive Guide to transform your practice and patient care.



Olivia Morrissey
Olivia is a writer and communications professional in the functional medicine industry.