The musculoskeletal (MSK) system is the main focus of many of our practices, with pain and function at the center. I would love to broaden this scope to include how the MSK system influences immune health and inflammation. Part of the reason I'm shining a light on this topic is that our attention has narrowed to just pain and function in recent decades, but there is so much more to these intricately linked systems.
This really struck home when I was discussing spinal health with one of our newest doctors who had graduated the year before. I mentioned that adjusting the mid lumbar can offer wonderful relief for menstrual cramps and adjusting T6 has a dramatic effect on reflux in infants or heartburn in adults. After sharing several other similar examples, he gave me a bemused smile and said, "Doc, that's so old school!" Yes, I think it's time for some more old-school methods underpinned by contemporary research.
Research on Immune Health, Inflammation and the Musculoskeletal System
For instance, a quick review of current research shows that manipulation treatment reduces a patient's length of hospital stay, duration of IV antibiotics, and incidence of respiratory failure or death.1 Another recent study found that adjustments to T9-T10 (innervation adrenals) impacted cortisol numbers to such a degree that it affects even "far-removed" conditions such as tonsilitis.2 Over the years, I have repeatedly seen evidence—both in my clinic and in studies—of the effect of spinal health on overall immunity, including outcomes in flu epidemics.3
One of the key elements that must be addressed for all MSK conditions is inflammation, whether it's acute, chronic or both. I consider it the emperor of almost all maladies and waste no time teaching patients about it. I make sure patients understand the basic mechanisms of inflammation, its effect on recovery and how it impacts their ability to maintain optimum MSK health, including proper muscle tone, proper strength, elasticity of ligaments and tendons, proper synovial fluid productivity, cartilage health, and proper bone density.
Managing Pain and Inflammation
It is so easy to overwhelm a patient with all this, so keep it simple. It's a three-stage process: First, get the patient out of pain and loss of function, then complete the healing cycle so this condition doesn't return, and finally optimize health on all fronts. The healthy MSK system then rewards the patient by allowing freedom for a variety of exercise with all its benefits, proper neurological input to all other systems, and reduction of injuries.
To achieve these objectives, we use both downstream and upstream medicine. We adjust, use rehab modalities and employ dietary changes to get results quickly. An anti-inflammatory food plan (AIFP) often can be utilized, especially for chronic inflammation, as well as nutraceuticals.
Acute Inflammation Treatment
Once again, treatment doesn't have to be complicated. For acute pain or inflammation, we use a proprietary pack of nutraceuticals that contains curcumin, proteolytic enzymes, flavonoids, GABA and glycine for pain and spasms.
When appropriate, we use collagen in the proprietary form of FORTIGEL®, whose benefits have been demonstrated by studies led by Harvard Medical School and Tufts Medical Center.4 This collagen blend also includes a patented form of hyaluronic acid (Mobilee®), which has a long record of use in the orthopedic world. Last but not least, type I collagen is also included to rebuild joints, boost resilience, and improve biomechanical joint properties, like stretching, bending and flexing.5
Chronic Inflammation Treatment
Chronic inflammation is a 21st century disease and often the root cause of MSK disorders, such as osteopenia, osteoporosis, loss of flexibility in tendons or ligaments, and cartilage destruction. Addressing this issue effectively will not only greatly improve recovery time and ultimately outcome but also facilitates other positive outcomes as a trickle-down effect.
The one commonality in almost all cases of chronic inflammation is gut health. It is now widely accepted that the gut is responsible for at least 70% of our immunity. We have come a long way since I authored an article in 1987 titled, "RA and the Link to Leaky Gut Syndrome."
For chronic inflammation cases, the patient must be guided and supported in making lifestyle changes, including AIFP, exercise, sleep, proper stress processing and nutraceuticals.
Turmeric is commonly used in my practice, and when it is delivered in the whole-root form (not just curcuminoids), you get the additional benefit of healing and feeding the gut microbiome. Proteolytic enzymes such as bromelain and flavonoids such as quercetin can also be employed.
Besides collagen, if joint destruction is extensive, glucosamine sulfate needs to be employed to further enhance cartilage health.
It is critical to also rebuild bone health through weight bearing exercises and provide the body with ammunition to reverse bone loss by prescribing calcium in the form of citrate/maleate as well as ipriflavone, magnesium and vitamins K1 and K2.
The Bottom Line
It is not uncommon in our practice to see bone loss reversal of 4-6% annually, even in the elderly. Once the patient's MSK health has been optimized, guidance on overall health is critical for continued well-being. For maintenance, I usually recommend EPA/DHA at up to 3 g/day, a multivitamin for filling nutritional gaps, calcium and vitamin D3 when appropriate, and probiotics for continued gut support.
Put these steps in place, and your practice will become the go-to MSK center in your community!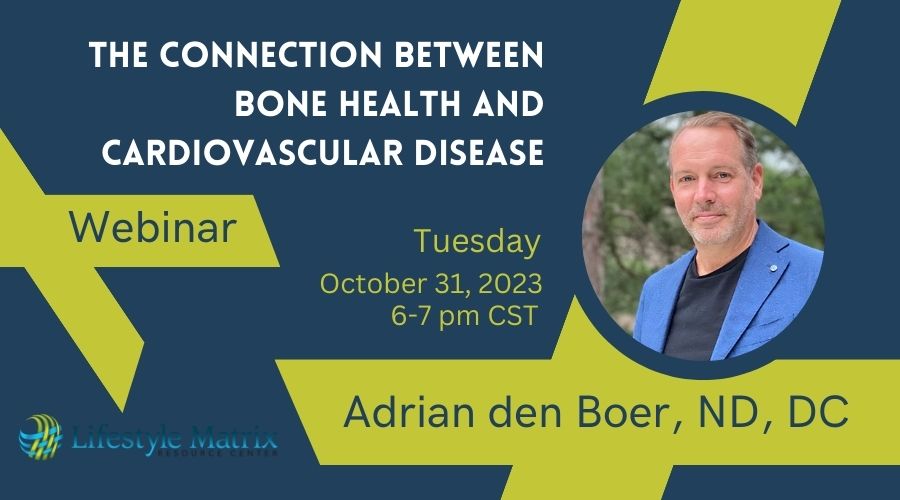 Educated in both the Netherlands and the United States, Dr. Adrian den Boer is a board-certified and licensed naturopathic and chiropractic physician. In addition, Dr. den Boer is fully certified as a functional medicine doctor. Dr. den Boer has treated over 10,000 patients successfully by utilizing multiple resources to manage patient care. Most recently, he joined the Lifestyle Matrix Resource Center as the Clinical Expert serving the MSK Solutions Pain Recovery Program.
References
Yao S, et al. Osteopathic manipulative treatment as a useful adjunctive tool for pneumonia. J Vis Etp. 2014; (87): 50687.
Luceno-Mardones A, et al. Effects of osteopathic T9 T10 vertebral manipulation in tonsilitis, a randomized clinical trial. Healthcare. 2021; q:394.
Mueller DM. The 2012-2013 influenza epidemic and the role of OMT. J Osteopath Med. 2013; 113(9): 703-707.
McAlindon TE, Nuite M, Krishnan N, Ruthazer R, et al. Changes in knee osteoarthritis detected by delayed gadolinium enhanced magnetic resonance imaging follows treatment with collagen hydrolysate: a pilot randomized controlled trial. Osteoarthritis and Cartilage. 19 (2011) 399e405.
Nadal et al. Effectiveness of treatment of tendinitis and plantar fasciitis by Tendoactive. Osteoarthritis and Cartilage. 2009; 17(1):S253.